---
The members of the parliament are headed for a major collision as talks of the proposed 12% increase in superannuation intensify.  A growing number of MPs have openly expressed their frustrations on the legislated timetable and their dissent to the plan increase overall.
As rebel MPs demand delay and discontinuance, Finance Minister Mathias Cormann move to snuff out the uprising by ruling out any changes to the timetable.
 Asked whether he would rule out changes to the timetable of the Super Guarantee Administration Act, Senator Cormann said "yes."  The superannuation increase from 9.5% to 12% will go as planned starting in 2021.
Prime minister Scott Morrison refused to give the same guarantee on Monday, saying there was "no change to the government's policy" but that he would not rule out any changes in the future.
The Morrison government is set to announce a retirement income review base on the recommendation of the Productivity Commission. The review will cover superannuation, pensions, and taxation, including the 12% increase.
There is no way to tell, at this moment, if the government will make changes in the increase. NSW Liberal MP Jason Falinski said, "Frustration is building around the fact that we have been talking about this for so long and there is just no movement."
But much of the contention stems from the wisdom of putting workers' money into an inefficient system.
Senator James Paterson said the Productivity Commission "recognised it is no good putting more money into super if that system is broken, as we believe it currently is".
He said, "I also think it's worthwhile for the government review to consider the wisdom of increasing superannuation from 9.5% to 12%."
"We need to carefully consider whether it's a good idea [for workers] to potentially receive lower take-home pay and maybe not receive a higher retirement benefit as a result."
The study by the Grattan Institute supports this, stating the policy could take $20 billion a year from wages. The report says  increasing the superannuation guarantee could reduce workers' take-home pay and access to pension later in life. Any benefits would only flow to high-income groups through tax cuts. See chart below.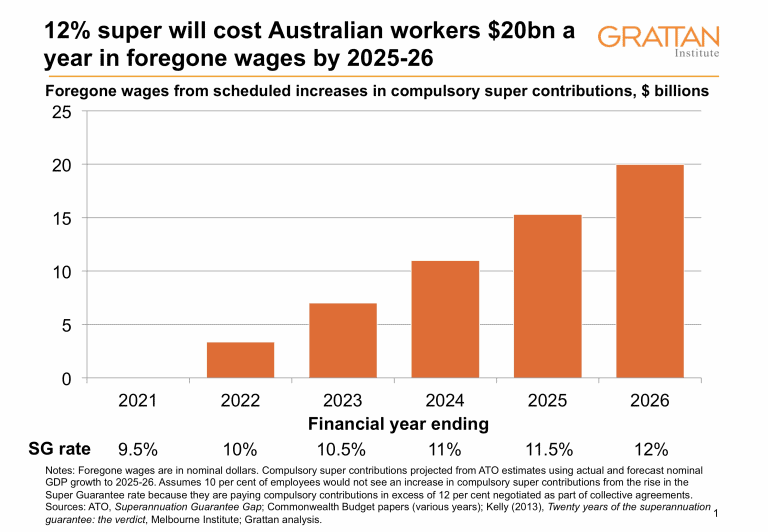 However, Industry Super Australia disputed this. Acting chief executive Matthew Linden argued the modelling was misleading because it assumed continuous career from age 30 to 67.
"Any attempt to wind back the proposed super increase or freeze it altogether would not only affect Australians' quality of life at retirement, it would increase the burden of the age pension on the budget."
But Liberal MP Tim Wilson, who told Sky News before of his "reservations" about the superannuation increase, said MPs were raising "legitimate questions."
He feels serious considerations must be given over the increase in superannuation guarantee versus giving people the choice to opt for wage increases so "they can do things like pay down debt today."
"The data shows the increase in [super] primarily benefits the rich, and we should give people the choice to take increased wages today or top up their super for tomorrow," he said.
Warning
The material on this website has been prepared for general information purposes only and not as specific advice to any particular person. Any advice contained on this website is General Advice and does not take into account any person's particular investment objectives, financial situation and particular needs. Before making an investment decision based on this advice you should consider, with or without the assistance of a securities adviser, whether it is appropriate to your particular investment needs, objectives and financial circumstances. In addition, the examples provided on this website are provided for illustrative purposes only.
Although every effort has been made to verify the accuracy of the information contained on this website, lnfocus, its officers, representatives, employees and agents disclaim all liability [except for any liability which by law cannot be excluded), for any error, inaccuracy in, or omission from the information contained in this website or any loss or damage suffered by any person directly or indirectly through relying on this information.